We perform calibrations on measuring equipment of the following sizes:
DC voltage
AC voltage
Direct current
Alternating current
Resistance
For measuring ranges and uncertainties associated refer to the table of Accreditation.
The measurements are performed in the laboratory with controlled environmental conditions both in temperature and in relative humidity.
Traceability is ensured by a numeral HP3458A multimeter and a multifunction calibrator FLUKE 5700A.
Multimeters for calibration is performed in accordance with the Calibration guides EURAMET cg-15.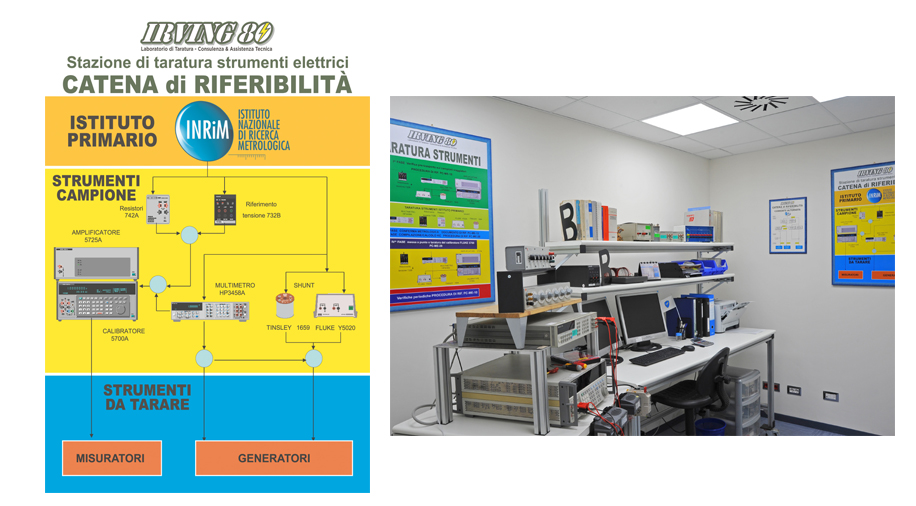 ---
CERTIFICABLE EQUIPMENT

 
 

Multifunction Calibrators

Process Calibrators

  

 

 

 

 

 

 

 

 

 

 

 

 

 

 

 

 

 

 

 

 

 

 

 

 

 

 

 

 

 

 

 

 

 

 

 

 

 

 

 

 

 

 

 

 

 

 

 

 

 

 

 

 

 

 

 

 

Process Calibrators

 

 

Numerals multimeters high precision

Numerals Multimeters counter

Numerals handheld multimeters

 

Resistors four and two-terminal

 

Deposit decade resistance

 

Measuring resistance

 

Transducer voltage/current

Transducers current/voltage

 

 

Current clamps

Sources of voltage and/or current